About SoftTouch Custom Stocks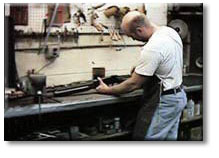 Our Mission: Offer superior products and services, exceptional customer service, and an unbeatable warranty; satisfy every customer.
Our Motto: Quality over Quantity.

Maybe you have seen one on the line or at a competition or at your gun club or better yet maybe you have fired a shotgun or rifle with the legendary SoftTouch™ recoil reduction system. But have you wondered about the genius behind the invention of this unprecedented, highly effective device?

Moe Bragg, avid trap and sporting clays shooter has always enjoyed shooting shotguns and his proficiency was soon recognized by friends and fellow gun club members who turned to Moe for tips and help to shoot better. But all the time spent and shells shot were starting to take a toll on his wallet and his time so when an opportunity presented itself in August 1979, Moe opened Shooter's Emporium, a full-blown gun superstore. This new business afforded him the time and money to compete in shoots up and down the West coast.

Then in 1984 an achy awareness began creeping its way into his daily routine. Anticipation of recoil and ensuing discomfort were causing him to flinch. Moe realized that felt recoil was accumulative on the body and to reduce that energy would be a long term benefit to shooters. Wanting to better his game and reduce his discomfort, Moe decided something had to change, so he developed and patented the SoftTouch™ recoil reduction system. And so began the legend.

Business and demand for the new recoil system boomed so Moe decided to move to a bigger shop closer to his gun club. He bought a building and some property and moved lock, stock and barrel to Southeast Portland on 162nd Ave. Enter Rob Ivens, stock maker extraordinaire... in the summer of 1989 Rob joined Moe's team and started installing SoftTouch™ systems, making customs stocks and doing stock repairs. Rob was not by any means a rookie; he has been making custom shotgun stocks by hand since he was in high school.

Born and schooled in Portland, Oregon, Rob had an interest in wood working and guns very early in life. As a little tike, Rob fiddled around making gadgets and inventing new toys. He built an automated catapult with materials in his parent's garage. In 8th grade, he saved his chore money and bought his first BB-gun. Not satisfied with the cheap stock that came with it, Rob hand-crafted a custom stock. A friend's dad was impressed with his skill and asked Rob to refinish and rechecker his Browning shotgun. So at the age of 15 Rob bought his first checkering kit. Word spread about his mastery and skill and soon he was refinishing and creating custom shotgun stocks for other friend's dad and their friends as well.

After high school in 1985, Rob got a job making car wash brushes for Dick Hanna. There he met a girl who connected him with Kimber of Oregon where he began honing his innate custom stock making skills. When Kimber filed for bankruptcy in 1989, Rob and a few other Kimber employees came to work for Shooter's Emporium building SoftTouch™ systems and making custom stocks. Rob's ingenuity and drive for customer satisfaction has been instrumental in all upgrades and improvements to the SoftTouch™ during his tenure.

In the ensuing years, Shooter's Emporium stopped selling guns and gun supplies and began focusing on the SoftTouch™ recoil system, custom stock modifications and making custom stocks. Then in January 2011 Moe Bragg decided to hand over the reigns of his SoftTouch legacy to Rob and retire. "Rob's persistence, perfection and attention to detail are his strengths", says Moe. The company name was change to SoftTouch Custom Stocks to better reflect the products and service offered and the transition was seamless to customers current and past.

The SoftTouch team has been distilled down to the Master Craftsman Rob Ivens, one groovy lady Beth Hulcy-Cook who manages the office, customer service, sales and shipping activities, and Journeyman Steve Schuldt aka Rob's Brother who returned to us after a 5-year hiatus in the Navy. We all share the same "customer satisfaction....do it right the first time" mentality.

Today, shooters can personalize their SoftTouch with a variety of options and upgrades to meet their shooting needs and sense of style.

How would you like your SoftTouch?